Purpose
Efficiently operate and evolve your information system solutions throughout their useful life. Any type of solutions.

The Solution Operation and Maintenance processes are presented in the Solution domain of Macroscope 5.
Main Topics

Processes

Primary Users

Secondary Users

Operation Support
Evolution Support
Configuration Management

Operation Control
Operation Support
Change Management
Maintenance Release
Solution Retirement

Business Solution Owner
Solution Support Team
Maintenance Team
Design Team
Development Team

Business Transition Team
Technical Specialist
IT Operation Team

Typical Applications

Adaptable to a large range of information system solutions, whether comprising high or low level of IT, simple system to complex multi-system solutions, mission critical or not.
This is an integrated and structured approach for delivering and maintaining information systems. Its main objective is to implement the required change on time, within budget, and with the appropriate level of quality. 
A process based on a Service Level Agreement
Solution Operation and Maintenance are on-going processes based on a service level agreement (SLA) that defines the scope of the maintenance services to be provided and identifies priorities or restrictions.
Adaptable Processes
Macroscope - Information system operation and maintenance proposes set of process for the operation, maintenance and retirement of the solution. These processes are based on the similar concepts as found in ITIL®.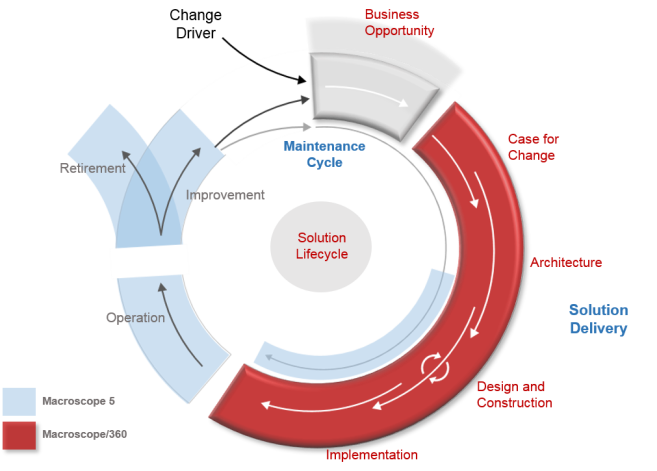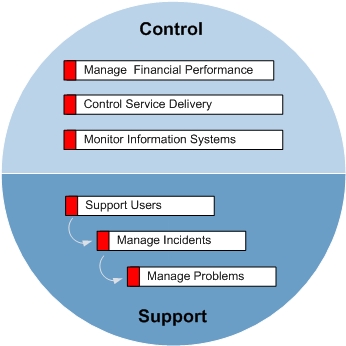 The System Operation process provides control and support mechanisms, aiming at preserving the quality, integrity, and availability of these systems, and at ensuring their compliance with the SLA.
The control processes include Manage Financial Performance, Control Service Delivery, and Monitor Information Systems. The support processes include Support Users, Manage Incidents, and Manage Problems.
The System Maintenance process covers several types of improvements, from corrective changes, technical or functional improvements, to more important changes necessitating the revision of requirements or aspects of the system architecture.
System Retirement process used when the solution has reached its end of life.
---
ITIL is a registered trade mark of AXELOS Limited.