Purpose
Efficiently envision, design, assemble and deliver your information system solutions. Any type of solutions.
Main Topics

Processes

Primary Users

Secondary Users

Requirements
Architecture
Specifications
Components
Quality
Organizational Change

Case for Change
Solution Architecture
Capability Acquisition
Design, Build, Test
Release Implementation

Business Solution Owner
Solution Architecture Team
Business Analyst
Design and Development Team

Business Transition Team
Operation Team
Technical Specialist
Project Management Office

Typical Applications

Adaptable to a large range of information system solutions, whether comprising high or low level of IT, simple system to complex multi-system solutions, mission critical or not.
This process domain is an integrated and structured approach for delivering and maintaining information systems. Its main objective is to implement the required change on time, within budget, and with the appropriate level of quality.
A Multi-dimensional Solution Architecture
The proposed approach, techniques and other tools go well beyond software engineering. The architecture addresses aspects related to work processes and user tasks, technology, people, security and transition, as well as software components.
Adaptable Processes
Naturally, since no two projects are the same, these processes are designed to be adapted to particularities, characteristics and constraints of each project.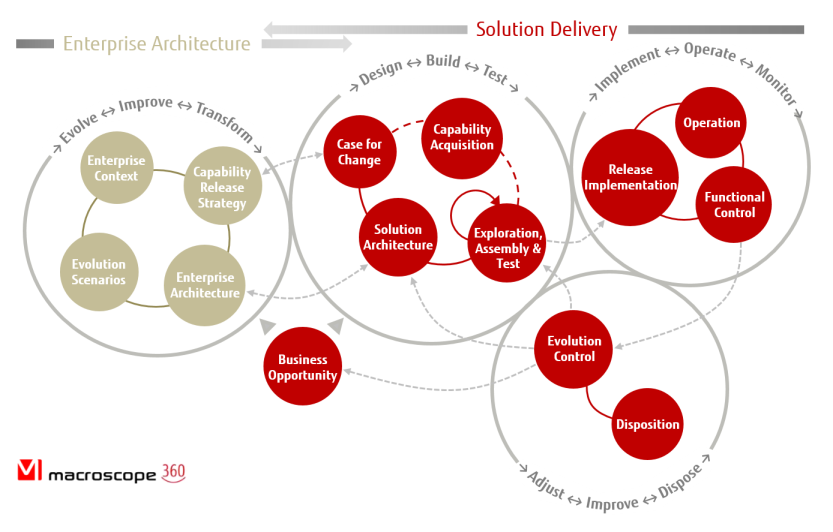 The Business Opportunity process serves as the entry point to the solution delivery lifecycle. This process ensures that undertaking the first phases of the project still makes business sense.
When project conditions and the organizational culture are favorable, Agile practices and techniques can be leveraged as soon as reasonable draft of the solution architecture is defined.