Purpose
Confirm or formalize your business and IT strategy, strategic management and governance.
Main Topics

Processes

Primary Users

Secondary Users

Strategic Reality
Strategic Target
Course of Action

Confirmation of Direction
Strategy Process Profiling
Strategy Steering

Business Architecture Specialist
Strategy Management Team

Change Specialist
Strategy Owner

Typical Applications

- Regular business planning
- Alignment of business and IT objectives and plans
- Major rationalization or restructuring with strategic impact
- Development of new products or markets that challenge the current strategy
- Reengineering core processes for growth
- Reevaluation of strategic targets
This process domain is designed to define organizational change at its highest level and help govern the destiny of the organization. Organizational change management starts at that level: Are we doing the right things to contribute to the business strategy?
The method provides a number of techniques such as a Strategy Governance, which proposes guidance and a process to monitor strategic reality by scanning business (and/or IT) environmental trends, strategic pattern (current strategy), and organization profile, and adjust the strategic course of action accordingly.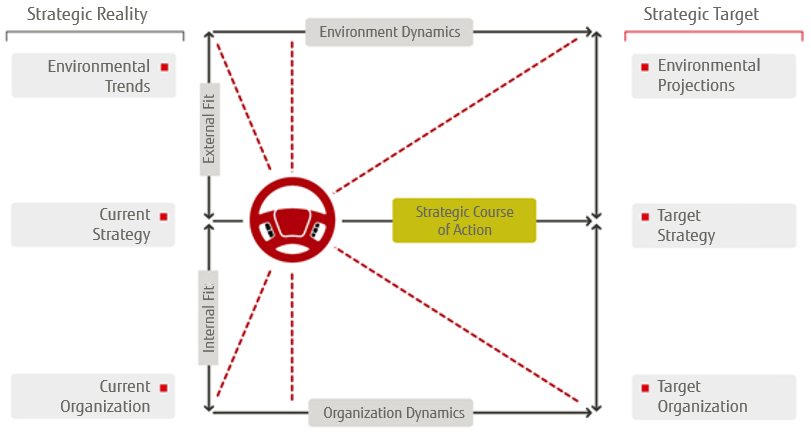 The proposed processes, techniques and tools help you to:
Re-evaluate strategic targets
Define business scenarios
Create IT-enabled business investment programs
Develop an IT strategy integrated with key business strategies and objectives
Draw realistic migration road maps for managing IT's evolution
Predict strategic effects of major restructuring, or design - supporting change management programs