Structure de documentation consolidée
6 years 4 months ago
#61
by

Serge Deschamps
Je suis un «fan» de l'outil Macroscope très simple, mais combien utile, appelé «Assistant à la définition de livrables», plus familièrement «l'Assistant», que l'on renommera peut-être un jour «
Assistant au démarrage de projet
». En quelques clics, je peux adapter et générer la ou les section(s) de la structure de documentation dont j'ai besoin pour mon projet, tout cela dans une structure de dossiers contenant mes modèles (gabarits) de livrables prêts à utiliser et déjà adaptés à mon projet et à mon organisation.
Après l'installation initiale de l'Assistant, on retrouve plusieurs structures de documentation (DS) distinctes en fonction des domaines de Macroscope que vous avez acquis. Lorsque je démontre Macroscope ou simplement quand j'ai besoin de quelques modèles de livrables, j'aime bien avoir accès à l'ensemble des types de livrables potentiels de Macroscope sous une seule structure. Je trouve plus efficace alors de pouvoir choisir ce dont j'ai besoin à partir d'une seule source.
L'image qui suit montre comment j'ai structuré le tout.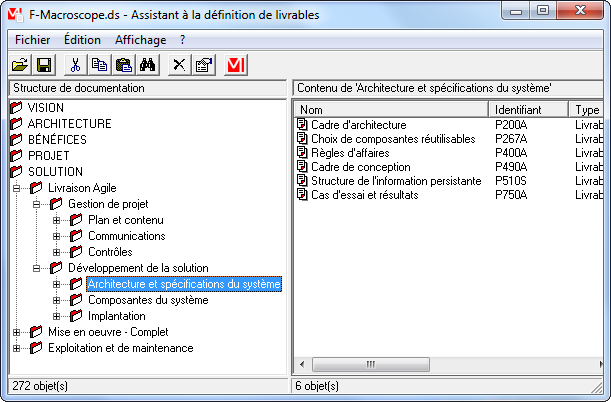 Ceci devient alors ma source de modèles de livrables. À partir de ce DS, je peux alors adapter et créer autant de DS spécifiques que j'ai de projets-types dans mon organisation. Je déposerai mon DS consolidé dans la zone de téléchargement.
Please Log in or Create an account to join the conversation.
Serge Deschamps

Topic Author